Uterine fibroids
Uterine fibroids are growths arising from the muscle/wall of the uterus. The medical term for it is 'leiomyoma'. They are estimated to occur in up to 20-25% of women. The cause of fibroids is unknown. They increase in size during pregnancy due to hormonal changes and reduce in size after menopause.
Fibroids come in various sizes. Some can be as small as a seed, some can be as big as 10 cm. They may not occur in isolation, meaning that a woman can have more than one fibroid at the same time.
The good news is the majority of fibroids are benign and not cancerous. In fact, the chance of fibroids becoming cancerous is less than 1%. However, big fibroids or fibroids which rapidly grow in size tend to be worrying as there is still a concern about malignancy.
Fibroids can be intramural (confined to the muscle wall), subserosal (seen on the surface of the uterus), submucosal (extending into the uterine cavity) or pedunculated (attached to the uterus by a stalk).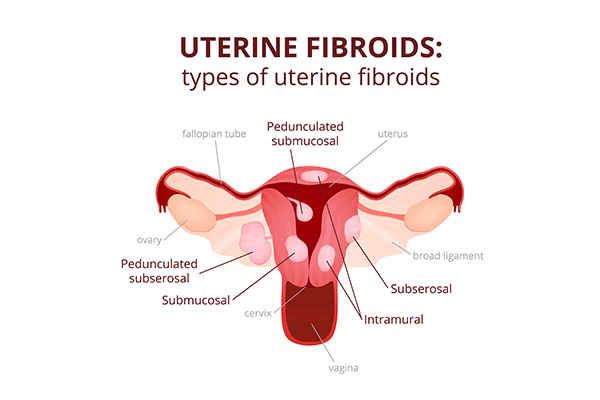 Many women with uterine fibroids have no symptoms, especially if the fibroids are small. Symptoms really depend on the size and location of the fibroids. They can cause heavy periods, prolonged periods, anaemia, pelvic pain or heaviness in the lower abdomen. Sometimes they can result in frequent urination, constipation and backache. Fibroids can also be associated with infertility.
How do you know if you have fibroids? If the fibroids are big they can be felt in the abdomen on a physical checkup. Otherwise they can be picked up by an ultrasound scan.
Not all uterine fibroids require treatment though. Your age, symptoms and whether you plan to have a baby will determine which treatment is best for you.
There isn't a very big role for medication in the treatment of fibroids. GnRH analogue injections can temporarily shrink fibroids by putting women in a 'pseudo-menopausal state'. This can be considered in women who are close to menopause or as a preoperative measure to shrink the fibroids before surgery.
If you have fibroids and are symptomatic, then surgery is an option to consider. 'Myomectomy' is the medical term for surgical removal of fibroid(s). 'Hysterectomy' is the medical term for surgical removal of the whole uterus.
Myomectomy or hysterectomy can be done via laparoscopy (keyhole approach), or the conventional laparotomy (open approach).
Laparoscopy is a procedure where a small incision (cut) is first made at the belly button. A camera is then inserted through the incision to see the uterus, fallopian tubes and ovaries. 2 further small incisions are made in the abdomen and surgical instruments inserted through them to do the surgery.
If you have a submucosal fibroid, meaning the fibroid extends into the uterine cavity, 'hysteroscopic myomectomy' can be done. A hysteroscope with an attached camera is introduced below through the vagina and cervix into the uterine cavity. The fibroid is then removed.