OUR DOCTOR: DR JUDY WONG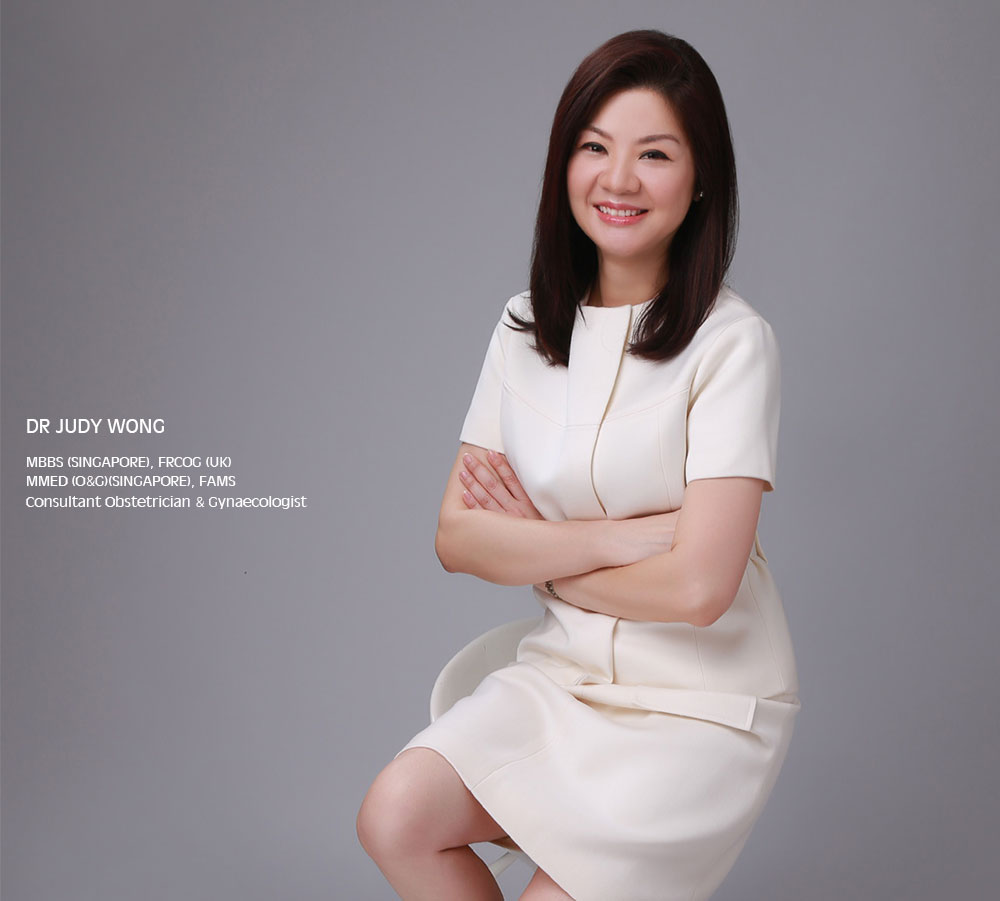 Dr Judy Wong obtained her medical degree from the National University of Singapore in 1992. In 1995, she started her specialist training in Obstetrics and Gynaecology at KK Women's and Children's Hospital. She completed her postgraduate training in 1998 when she obtained postgraduate qualifications from the Royal College of Obstetricians and Gynaecologists in London, UK, as well as a Master's Degree in Obstetrics and Gynaecology from the National University of Singapore.
Dr Wong obtained her Certificate of Specialist Accreditation in 2001 and was made a Fellow of the Academy of Medicine, Singapore in 2002. In 2010, she was conferred a Fellowship in the Royal College of Obstetricians and Gynaecologists in London, United Kingdom.
From 1995 to 2008, Dr Wong was with KK Women's and Children's Hospital. She served as Deputy Head, Department of General Obstetrics and Gynaecology before she left for private practice.
During her 13 years of service, Dr Wong has been awarded 12 KK Service from the Heart Awards and 2 National Excellent Service Awards (EXSA), in recognition of her exemplary care and sincerity towards patients.
With more than 20 years of experience, Dr Wong has much expertise in managing a variety of obstetric and gynaecological conditions. She has carried out numerous deliveries and gynaecological surgeries. She also performs laparoscopies (keyhole surgeries).
Dr Wong has been a member of the Obstetrical and Gynaecological Society of Singapore since 1998. She has also held various positions in the Perinatal Society of Singapore, such as Publication Chairman, Assistant Secretary-General, Vice-President, Executive Board Member and Treasurer. She has published a number of scientific papers in her field, which have been featured in international medical journals. Dr Wong is also a contributing author to two books, 'Practical Obstetrics and Gynaecology Handbook for the General Practitioner', published in 2006 and 'The New Art and Science of Pregnancy and Childbirth', published in 2008.
A warm, patient and empathetic doctor with extensive experience, Dr Wong considers it an honour and privilege to have her patients place their trust in her. She tries her best to ensure a fulfilling pregnancy journey for every mother-to-be.
what our patients say
I had an excellent experience with Dr Judy Wong! She is very professional, kind and patient. She calms me down with her positive mindset.
The clinic staff is friendly, nice and welcoming, both in person and over the phone.
I find the clinic peaceful and welcoming. -- Huan
CONTACT US