SERVICES: PREGNANCY CARE AND DELIVERY
Pregnancy is one of the most important events in a woman's life. This is especially so for women who conceive for the very first time. They can be overwhelmed, with mixed feelings of joy, anticipation and worries.
As a mother of two, Dr Wong understands and tries to allay her patients' anxieties. Patient and thorough, she believes in guiding her patients and walking the path alongside them to ensure the best possible outcome.
With over 20 years in clinical practice, Dr Wong has extensive experience. She listens carefully to each mother-to-be's concerns and expectations, and tailors her management to the patient's unique needs. Warm and sincere, Dr Wong prioritises the mother and baby's well-being above all. She is careful and meticulous every step of the way, doing her best to ensure a comfortable and fulfilling pregnancy for mummies.
The joy of bringing life into the world is immeasurable and precious. Dr Wong deeply values the trust her patients have placed in her, to look after them on this life-changing journey.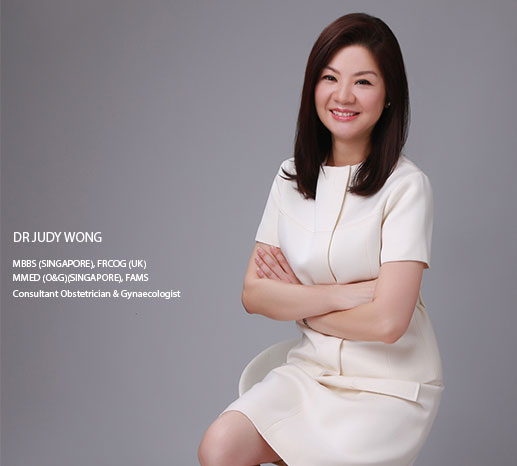 what our patients say
Dr Judy Wong is patient, kind, reassuring and motherly. She is careful and spends time and effort to ensure that you understand the issues, and is always happy to explain more. She has mother and child's best interests at heart, and I always felt I was in good and capable hands. -- Vera
OUR SERVICES
First Trimester Pre-Eclampsia Screening
NIPT (Non-Invasive Prenatal Testing)
Family planning / Contraception
Female cancer and health screening
Laparoscopy (key hole) surgery
Management of fibroids, ovarian cysts, polyps, endometriosis, vaginal infections
Infertility workup and treatment
Menstrual problems, Painful Periods
Menopause
PAP smear
HPV testing
CONTACT INFORMATION & LOCATION
Tel:
(65) 6255 2823
Fax:
(65) 6255 7073
Emergency Tel:
(65) 6535 8833
After Office Hours
Address:
#04-08 Thomson Medical Centre
339 Thomson Road
Singapore 307677


Mon ~ Fri:
9:00am ~ 5:00pm
Sat:


8:30am ~ 1:00pm


CONTACT US