Polyps
Polyps are small soft growths at the cervix (cervical polyps), and/or in the lining of the womb (endometrial polyps).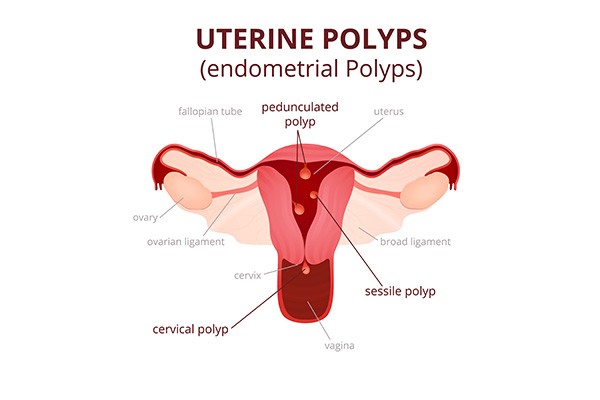 There can be more than one polyp at the same time in a woman.
Polyps are usually benign (non-cancerous), although some can be pre-cancerous or cancerous.
They range in size from a few millimetres to a few centimetres.
Most polyps have no symptoms. If they do, they can show as prolonged periods, heavy periods or intermenstrual bleeding (bleeding in between periods).
Bleeding after sex can occur with a cervical polyp, due to contact with the polyp during sexual activity. But more often than not, a cervical polyp is picked up during a Pap smear, when it can be seen.
An endometrial polyp can be picked up on an ultrasound scan, especially if the scan is done at the right time of the menstrual cycle. A good time to do the scan would be at the tail end of the period or just after the period.
Sometimes the initial ultrasound scan can be a false positive. Because of this possibility, and especially if there are no symptoms, a follow-up scan is recommended.
However, the gold standard to know for sure whether an endometrial polyp is present is by doing a 'hysteroscopy'. This involves introducing a camera through the vagina and cervix into the uterine cavity, seeing the polyp and removing it at the same time.
what our patients say
My experience with Dr Judy Wong and her staff was super good!
I like Dr Wong's bedside manner and technique. Her nurses are very nice and attentive. -- Yuling
OUR SERVICES
First Trimester Pre-Eclampsia Screening
NIPT (Non-Invasive Prenatal Testing)
Family planning / Contraception
Female cancer and health screening
Laparoscopy (key hole) surgery
Management of fibroids, ovarian cysts, polyps, endometriosis, vaginal infections
Infertility workup and treatment
Menstrual problems, Painful Periods
Menopause
PAP smear
HPV testing
CONTACT INFORMATION & LOCATION
Tel:
(65) 6255 2823
Fax:
(65) 6255 7073
Emergency Tel:
(65) 6535 8833
After Office Hours
Address:
#04-08 Thomson Medical Centre
339 Thomson Road
Singapore 307677


Mon ~ Fri:
9:00am ~ 5:00pm
Sat:


8:30am ~ 1:00pm


CONTACT US